Education is a growth area for the Middle East. The sector needs support across its ecosystem to create the skills needed for the future.
Education must adapt to equip the next generation with the skills needed to tackle major challenges in the region and globally.
Challenges such as climate change, water, food and cyber security, mean curricula must be agile to meet the requirements of a fast-changing world, and input is required from all stakeholders to make it happen, according to a Future Skills roundtable hosted by HSBC.
"Education is the key growth area of the Middle East. It aligns with the government strategy in terms of building a knowledge-based economy," said Gemma Wild, Sector Head, Education, MENAT, HSBC.
"For those reasons, globally and regionally, HSBC supports the education sector, in terms of funding growth, and supporting the whole ecosystem, from the parent, to the teacher, the student, owner and investor. We also support the sector through our Corporate Sustainability strategy with employability and financial capability."
Companies like HSBC can help develop and innovate curricula to create required skills, according to Sabrin Rahman, Head of Corporate Sustainability. She said: "It's all about capability building to create the skills we think young people will need in the future, based on our interaction, based on our learnings across different markets."
Connecting all different stakeholders from the education sector ecosystem will help all establishments work together to create a more effective system better serving the needs of future generations
Skills of the future
The delegates agreed that pupils and students may no longer expect a job for life, and education must prepare them to adapt to change throughout their careers.
The discussion included greater emphasis on varied skills and looking beyond a set structure in the curriculum focused on exams and providing employers job ready students.
Ivor McGettigan, chairman of Education Sector Group, Al Tamimi & Co, said vocational qualifications were looked down on in many societies and countries, with the exception of some such as Germany, where up to 50 per cent enter vocational training on finishing school. McGettigan called for a change in culture for parents to consider options such as the vocational route to help develop skills that lead to employability in specific industries.
Hugh Martin, Registrar and Chief Administrative Officer, The British University in Dubai agreed that schools and universities are getting more pressure to get students career ready and that it will still take several months for a student to adapt to the workplace when they start their first job, to get used to the working environment. "Let's not switch what schools and universities are meant to be doing"
The general consensus amongst the delegates was that an objective measure would still be required but the education sector needs to look beyond exam results and to up-weight other skills children develop during their academic years to be ready for a changing world.
Siobhan Blaney, a business curriculum specialist for the UAE Ministry of Education, said it was not simply a case of writing a new school curriculum, as a culture tied to exam success would take time to change.
"We have developed a curriculum that relies on working for yourself and continuous assessment, but schools are still nervous about it. We cannot just use a sledgehammer to change the existing culture, as the more we do that, the more people will resist. We must show them, rather than tell them, and all the stakeholders must work together to show that."
Cameron Mirza, MENA director, Nottingham Trent University, said "Employers need to take responsibility and move away from a tick box exercise of 'we want a degree in this from this university', and instead say 'these are the skills and competencies and the behaviours and values that we want from our trainee graduates'."
This was further supported by other delegates who agreed a shift was needed to move away from a system serving results and that employers but also parents need to make decisions beyond the league tables and look for establishments that provide their children with exams but also the personal skills required for the future.
Trends influencing skills
Drivers of change, such as globalisation, climate change, and technology will shape the world, making the future unpredictable. Historically schools have been seen as places of education, but the perception of them needs to changes to be that of establishments that develop children beyond just results.
Delegates of the HSBC roundtable agreed that in addition to the qualifications, establishments within the sector play a huge part of developing a range of skills including reasoning skills, problem solving skills, social skills and communication skills. These skills prepare the next generation for life after education years and are as important as the qualifications, helping them beyond just a working environment, spanning across industries but apply for general life as well.
Given the impact of the disruption and likelihood of further disruption in the macroeconomic environment, building the resilience and agility or adaptability of the next generation is something that is critical to help them deal with and come up with solutions to global challenges. Delegates agree that this and more prevalently, the ever increasing amount of information available in the public domain, the next generation need to understand how to critically evaluate opinions and facts and form sound opinions on topics. This is where the wider skills developed during education years play a huge part of guiding individuals through different walks of life.
Mirza suggested another trend that will shape the sector will be the need of stakeholders to come together to support a system which will produce the skills needed for the future. "The future is creating an intersection between public sector and private employers, and going beyond that to private equity, venture capitalism and society," he said.
Technology such as artificial intelligence (A.I.) has the power to change education for the better, supporting educators in their teaching, but that it would not replace teachers.
Henning Fries, COO of The Dwight School, which has the capabilities to allow students to undertake their entire education online, said teachers would still have a role: "The teacher is a conduit between pupil and learning, there are certain elements that I feel cannot be replaced."
Sabrin Rahman (Regional Head of Sustainability, HSBC MENAT) concluded that "Future skills is such a core part of what we bring to the wider community," she said. "We have a huge responsibility to play in the ecosystem, and we understand that."
Watch the highlights of the discussion here.
Trends
With education being a key growth area for the Middle East, contact us to discuss how HSBC can support your plans in the sector.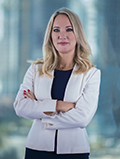 Gemma Wild
HSBC MENAT Sector Head, Education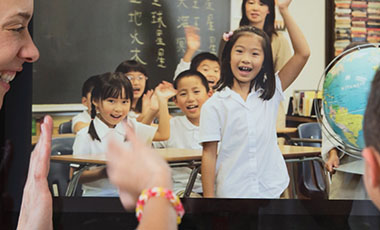 Education
HSBC is helping foster MENAT's education sector to help drive a knowledge-based economy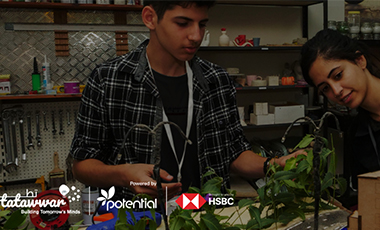 Tatawwar
Tatawwar, is an exciting, interactive programme sponsored by HSBC which brings together students, schools, parents and the business community to help innovate for a shared future.
Future of Education
COVID-19 has disrupted education and brought about widespread transitions to online learning. Are blended models of learning the future and, if so, how will institutions adapt to this change?