In 2019, global education technology investments reached US$18.66 billion and the overall market for online education is set to reach US$350 billion by 2025*
COVID-19 has disrupted education at both school and university levels and brought about widespread transitions to online learning, causing institutions to review whether blended models of online and traditional teaching may be the future.
During the inaugural HSBC Virtual Boardroom series, sector leaders focused on the future of education in the region. They reached a consensus that schools and universities had seen successes in adapting to digital learning, integrating change and adapting to a new environment in both the K12 and higher education sectors.
For HSBC, education is a crucial pillar in the socio-economic development of the region as education plays a fundamental role in the development of nations. As the region transforms and adapts in the post COVID-19 world, educational institutions at all levels have a golden opportunity to leverage the power of technology to create what many consider, changes to the traditional norms within the sector.
Pandemic disruption
HSBC's Virtual Boardroom convened experts from across the education ecosystem to discuss the future of learning following the disruption caused by the global COVID-19 pandemic.
Education as a sector grows ever more important in the region, it is a key driver of growth thanks to its young population. Reports shows that Gulf states alone will have a K12 student population of 12 million by 20221. Rising income per capita is also boosting take-up of private education, so that it now plays a critical role in driving the learning agenda in the region.
The demand for higher education is likely to continue to grow, thanks to the wider Middle East's large youth population – 42 per cent will be under 25 by 20302. This makes it imperative to build on existing development of quality education in order to foster regional growth.
Educators worldwide have long debated the need for change in the way future generations learn. While traditional schools provide clear socio-economic benefits in terms of structure, discipline and friendships, the development of education technology (ed-tech), and its adoption as a result of the pandemic, has highlighted benefits such as increased parental involvement.
The experts attending the discussion agreed that remote learning (introduced in the UAE in early March) provided more tools and different ways of delivering the curriculum. The consensus was that this would not be a replacement for traditional learning and that the social dynamics of learning through the traditional system wouldn't easily be replaced. Similarly, memories and relationships are formed by having a social element to learning which may remain with students for the rest of their lives and this is not easily replaced by just having online learning.
Meanwhile, Beatrice Cernuta, education practice director at EY-Parthenon, said there were positives to remote learning. Parents in China, where schools are now starting to reopen after months of closures, supported some aspects of it, she said.
"In senior grades, parents will now expect a degree of e-learning and will not be happy if that is taken away. They now have a good insight into what their child is doing each day, and they do not want to lose that."
The general consensus reached amongst participants was that physical schools will remain, but a balance of enhancing classroom learning with tech - including pre-recorded sessions, live online classes and live in-classroom options – is the right space to move towards. With a more connected world, further disruption is likely over the coming years, so adoption of new practices by the sector is now key.
The Ed-tech space
While the pandemic has both accelerated the debate about online versus traditional learning and forced schools to test the viability of the ed-tech space, ed-tech is not able to replicate classroom learning entirely with all its benefits, the experts agreed.
Hugh Martin, Registrar and Chief Administrative Officer at The British University in Dubai, does not believe the pandemic will accelerate the demise of physical universities. "The reality is that students want the face-to-face experience, and there is always going to be the blended requirement where students need to be in labs for disciplines such as medicine, engineering and life sciences," he said.
Good schools and universities have, for centuries, survived because of the success and value they create, such as the networks formed and long-term connections built that can determine the future of students who go there.
As a result, the traditional model of learning will not erode through a storm – rather, it will adopt the necessary changes to enhance student experiences relative to courses. This means that educators need to embrace and harness the disruption brought by technology.
Omar Farooqi, founder and president of Coded Minds Global, said that the use of technology in education is still at an early stage. He cited widespread use of "low-tech" such as meetings apps Zoom and Microsoft Teams, but said that "high-tech" such as artificial intelligence (A.I.), and how it impacts the role of the teacher, remains to be seen.
He emphasised that to look at the future of learning, the sector as a whole needs to look beyond virtual meeting apps and instead consider A.I. and other cutting-edge technology to enhance the delivery of learning.
Sahar Cooper, CEO, Aldar Education suggested that "those who have invested early in the technology have an advantage" but educators "needed to make sure this is not just purely reactionary" and that the integration of technology in education "must be ubiquitous across schools and future focused to support our students' long term learning outcomes."
The online offline debate
There is a need to balance the benefits of online learning with the fact that some students do not see equal monetary value between "online" and "offline" degrees, according to research by strategy consultants EY-Parthenon.
Navin Valrani, CEO of Arcadia Schools, cited the US$7 trillion global education sector, of which only 5 percent, or US$160 billion, is accounted for by the digital market.3
"If you do away with bricks and mortar, what happens to that US$7 trillion? Moving into the online space would be a major blow to an industry which is a large part of GDP," he said.
While the digital or online learning market may be a fraction of the overall sector, it will see faster growth according to a report by Business Live ME. The online segment will see a compound annual growth rate (CAGR) of 15.2 per cent between until 2023, compared with 10 per cent for the wider education sector4.
Ivor McGettigan, Partner, Al Tamimi & Company, said his clients across the region in other sectors were considering moving away from bricks and mortar as a result of the COVID-19 outbreak, but a different model was required for education.
"They have looked at the data and have seen that they are working most efficiently from home. But in education, people are saying, a blended model, traditional school and ed-tech is the future," he said.
The pandemic will have a role in shaping the future demographics of universities. Zeina Hojeij, assistant dean for student's affairs at Zayed University in Dubai, said it has already brought about a reluctance to study away from home among Asian students, who make up large percentages of student populations in certain universities in the United States and Australia.
They may now be put off studying abroad by the threat of more travel restrictions, she said. "At this point, we do not know the extent to which it will cause colleges and universities to close, blend or merge."
There is also a challenge to the mindset of traditional four-year degree courses, with some experts suggesting that there could be a market for "nano" degrees. These shorter, more dynamic offerings could be tailored to be far more relevant to the working world.
Higher education also faces challenges that are broader than COVID-19. There was widespread agreement that universities need to create a continuous discussion with schools and employers to ensure they were teaching students skills – such as entrepreneurship, leadership, resilience and management – for the workplace of the future.
"HSBC has a key role to play in this, with our focus on education, employability and financial capability. All of which fall within our future skills agenda, a core part of a sustainability strategy for the way the bank does business in the Middle East. One way we support this agenda is through the Tatawwar programme" said Gemma Wild (Sector Head, Education, HSBC Bank Middle East Limited). Tatawwar which means 'development' in Arabic, and was launched in partnership with Potential.com to bring together students, parents, schools and the business community to innovate for a shared future.
Wild added that "HSBC is committed to supporting the whole education ecosystem in the region. Technology and innovation is fundamental to the long-term success of the sector, and HSBC can use its global networks to support the development of the next generation in the region".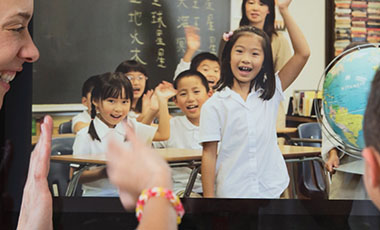 Education
HSBC is helping foster MENAT's education sector to help drive a knowledge-based economy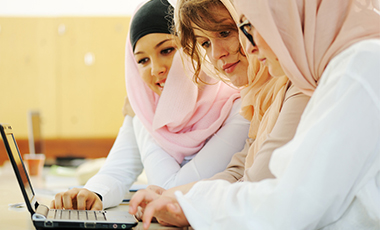 Education as a pillar of growth
Crucial to the development of nations, the sector's importance in the region has been recognised by governments, which has led to greater international interest from investors.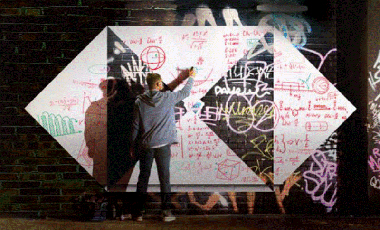 Tatawwar
Tatawwar, is an exciting, interactive programme sponsored by HSBC which brings together students, schools, parents and the business community to help innovate for a shared future.