Visions of Our City: Abu Dhabi
Together we are Abu Dhabi's pioneering culture
Abu Dhabi has emerged as a global business, financial and leisure hub, but with new strategies and mindsets focussed on tolerance and innovation, the emirate is pioneering for the future.
The grand canopy of the Louvre Abu Dhabi and the stunning expanse of the under-construction Guggenheim Museum on Saadiyat Island's shoreline are new landmarks highlighting the evolving nature of the UAE capital, both physically and culturally.
The energy powerhouse's fiscal strength is rooted in its world-class oil industry, but the economy is now expanding in exciting new directions.
The non-oil economy is already in growth mode as the Abu Dhabi government is taking steps to increase the share of the sector to 64% of the overall economy by 2030, compared to 50% today.
Transforming its economy
Indeed, bolstering export-oriented, capital-intensive industries, such as petrochemicals, pharmaceuticals and life sciences, services, and trade and logistics is adding new dimensions to the Abu Dhabi economy.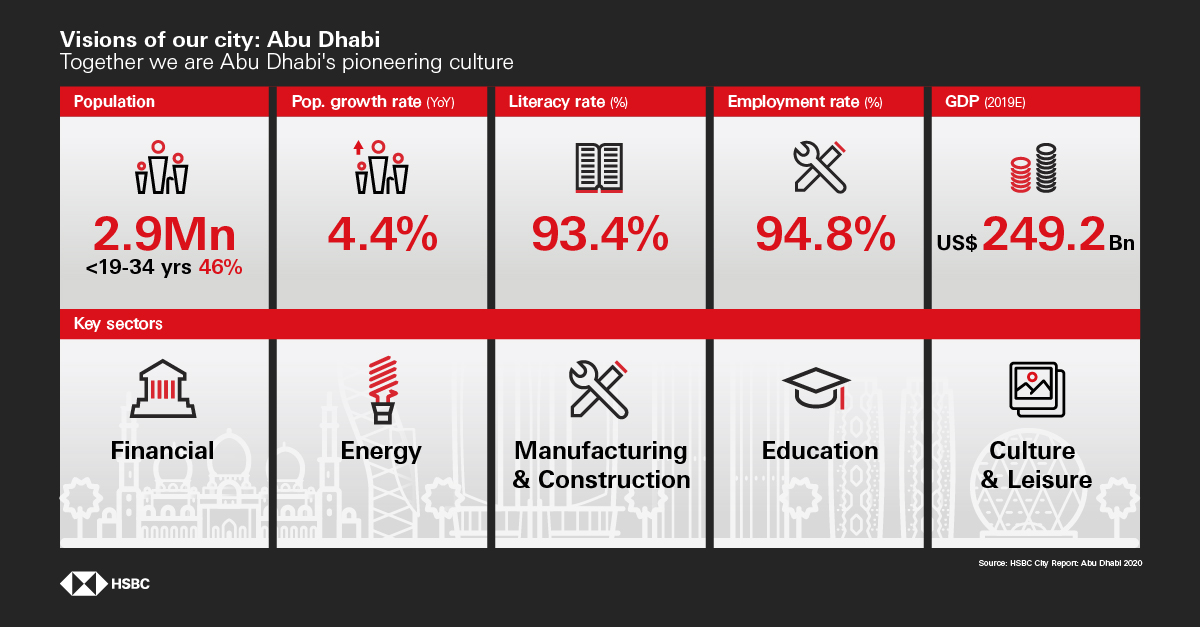 Over the past few years, the emirate has established twofour54, a tax-free media zone; and the Abu Dhabi Global Market, a financial free zone to expand the services industry.
In 2019, the government launched Hub71, a US$1.5-billion investment initiative to nurture tech start-ups in collaboration with tech giants such as Microsoft and Softbank Group.
Last year, the government unveiled the AED50-billion Ghadan21, a transformative accelerator programme aimed at promoting innovation, skills upgrade, eco-tourism, and new businesses. The programme launched more than 50 initiatives in its first year alone. And in light of the pandemic, the government fast-tracked 16 initiatives to improve the ease of doing business and reduce the cost of living in the emirate.
These efforts have dovetailed with efforts to boost immigration with the launch of long-term residence visas for highly skilled entrepreneurs and professionals to create a vibrant living and working ecosystem.
Abu Dhabi connections
A spate of infrastructure projects are also under way that are expected to transform the capital's landscape and serve as the springboard for new initiatives. These include the US$3.3 billion Yas South Development, a mixed-use project featuring entertainment areas, hotels and residences.
The emirate's US$3 billion Midfield Terminal will expand Abu Dhabi Airport's capacity to 30 million passengers a year and dovetails with the emirate's ambition to become an aerospace manufacturing facility, logistics and business hub with vast air connections.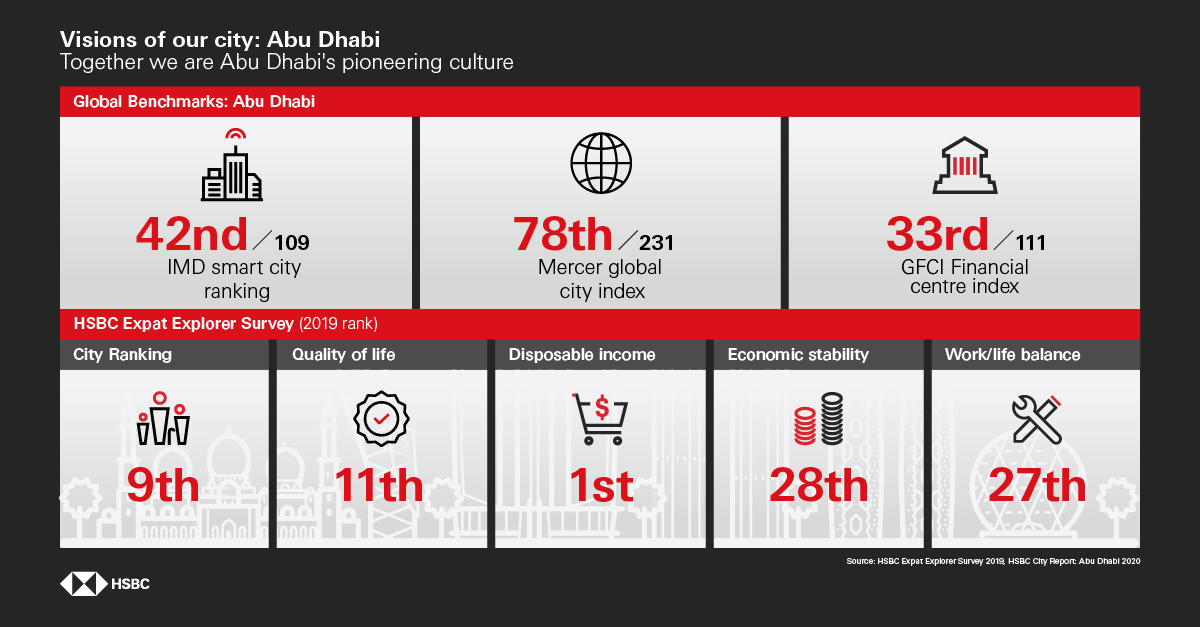 Another key project is the US$2 billion Abu Dhabi Metro Light Rail running across 131-kilometres and connecting the downtown core with suburbs and satellite business centres.
A US$1 billion Khalifa Port Expansion, which will extend the facility's capacity by 4 million twenty-foot-equivalent units (TEUs), completes the emirate's ambition of upgrading its air, rail and shipping infrastructure in the post-COVID-19 era.
New sectors for growth
The infrastructure projects are vital to address the changing global trade order. Highly globalised and specialised supply chains have proven to be vulnerable models, and there is a new imperative for more diversified supply chains and trade relationships.
The post-COVID-19 economy has compelled many governments to consider re-localisation of production facilities of priority industries and accelerate digitisation and technology innovations to reduce dependence on physical connections.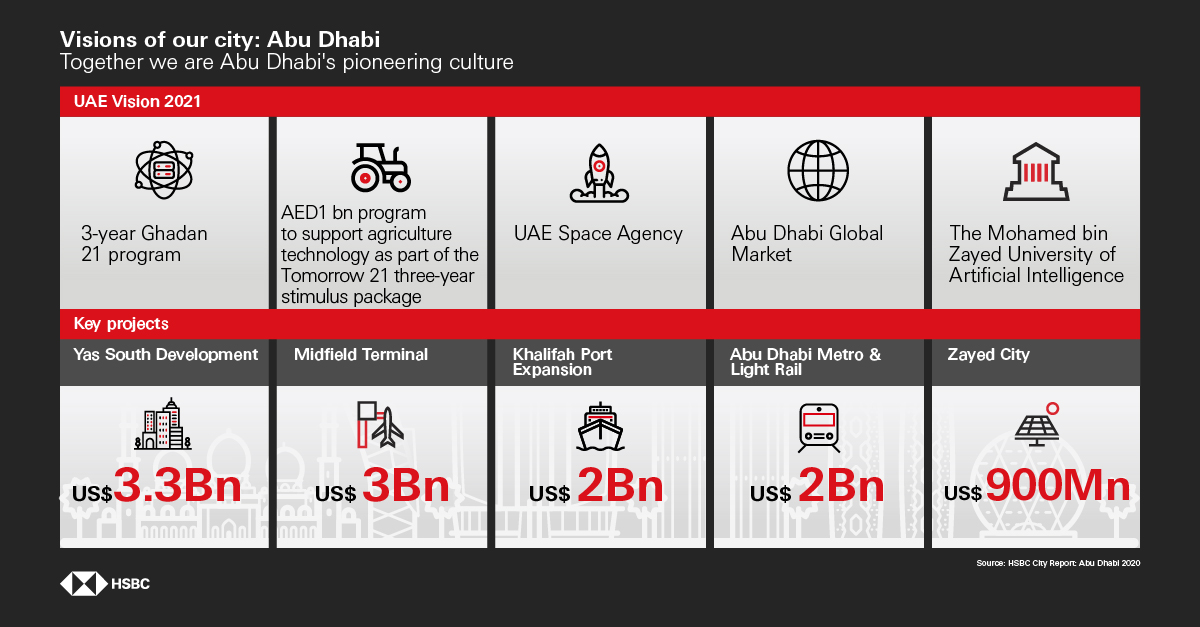 A number of Abu Dhabi companies in the public and private sector are investing heavily in more secure supply chains, building in-house capabilities to ensure resilience, and leveraging artificial intelligence, robotics and Big Data analyses to improve business efficiencies.
Projects such as the Abu Dhabi Telemedicine Centre, UAE Space Agency and the start of the Barakah Nuclear Energy Plant highlight the emirate's growing prowess in areas of science and innovation, which are only gaining more currency in anticipation of a post-COVID-19 world.
The next wave of Abu Dhabi's economic growth is already under way. The government's investment in various industries will perpetuate new growth cycles and its focus on resilience and sustainability, inclusive of agritech, healthcare, and future skills, will enable the economy to ride out volatility in the future and thrive in a changing world.
The Artist - Diaa Alam
An Egyptian with an Emirati spirit, born, raised and currently based in the United Arab Emirates. He is a calligrapher, muralist and a live art performer. By profession, he is an Urban Planner and a Landscape Architect. Diaa is the founder of Naht Designs which is considered the first Emirati brand specializing in Arabic calligraphy fashion and lifestyle. He aims to combine and integrate Arabic Calligraphy in his daily life in a contemporary and modern way. He won numerous awards and participated in many live art exhibitions across the UAE.