Sustainability

Sustainable Supply Chain
Understanding ESG
General Sustainability
Trade, Transport, and Logistics
Electric vehicles, smart systems and effective waste management are on the rise, but the sector could do more, say experts.
The transport sector is responsible for nearly a quarter of total global carbon dioxide emissions, with aviation and shipping on the rise, fueled by a boom in e-commerce and the consumer push for instant deliveries.
In another of HSBC's Living Business MENAT 2021 series, a panel of industry leaders and experts discussed the challenges faced by the transport sector, and potential solutions to significantly reduce emissions in the coming years.
Building an electric delivery fleet
The sector's greenhouse gas emissions primarily involve fossil fuels burned for road, rail, air and marine transport. At the same time, up to 95 percent of energy used by transport globally comes from petroleum-based fuels, largely gasoline and diesel.1
Earlier in July, the European Union laid out an ambitious proposal to fight climate change, which includes eliminating the sales of new gas- and diesel-powered cars in just 14 years.2
Gulf Arab oil exporters are also taking new steps towards investing in sustainable transport infrastructure, supporting electric vehicles (EVs) and producing synthetic fuel.
"We are converting all our fleets into electric or hydrogen in the coming three to five years, wherever technology is available, and where regulations allow," says Raji Hattar, Chief Sustainability Officer at UAE-based logistics company Aramex.
There were 10 million electric cars on the world's roads at the end of 2020, following a decade of rapid growth. Electric car registrations increased by 41 percent in 2020, despite the pandemic-related 16 percent worldwide downturn in car sales.3
Aramex has been working with suppliers in Dubai to implement electric vans to the emirate, where it hopes to have several running by the end of the year. It has also been testing electric motorcycles for local deliveries in Dubai and Jordan.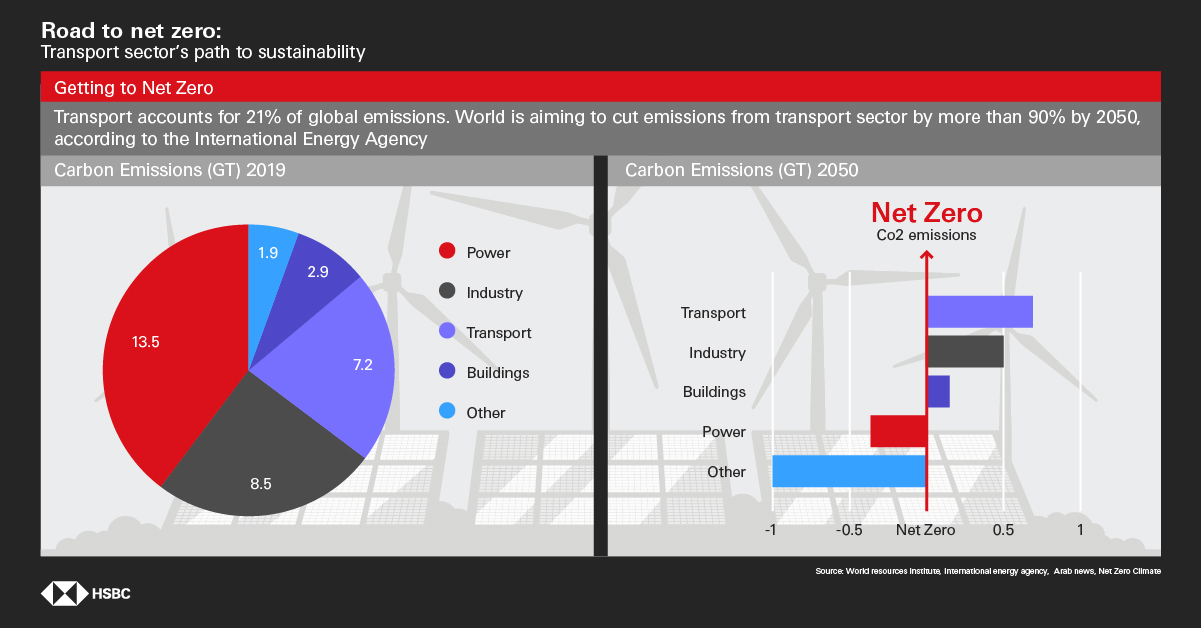 Hydrogen as an alternative
In Saudi Arabia, Aramex is working to start testing hydrogen trucks, which could use filling stations in Riyadh and Jeddah.
Hydrogen lags electric batteries in the green transport race because it is more expensive, but its proponents argue hydrogen-powered trucks are better for long-haul transport as they have a greater range.
"Unfortunately, electric trucks are still extremely expensive with the cheapest at around USD400,000 to USD500,000," Hattar says.
A study by consultancy Berylls Strategy Advisors predicts that by 2030, 25 percent of new truck sales in Europe will be battery powered and 10 percent using fuel cell energy. However, this ratio could change if green hydrogen is scaled up.4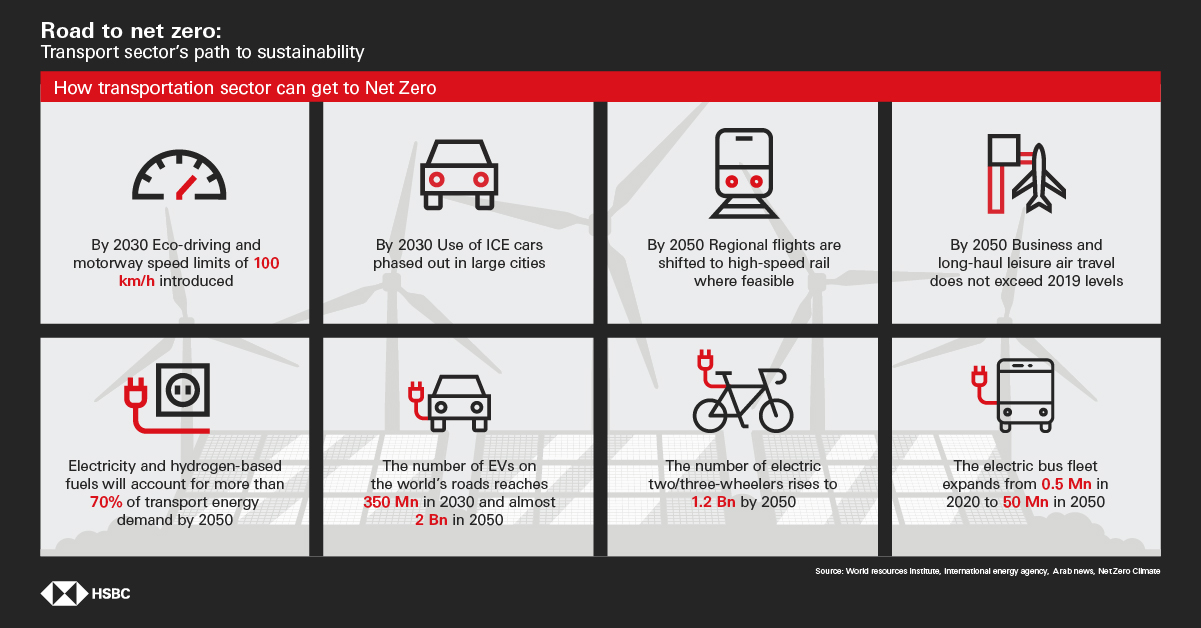 Intelligent logistics centres
Warehousing costs can account for almost 10 percent of a company's revenues. Implementing intelligent energy management systems in warehouses and distribution centres can therefore translate into significant savings.5
For example, the installation of LED lighting with a smart system using occupancy and daylight sensors in a 47,000-square-meter warehouse in Germany led to energy savings of nearly 60 percent with a return on investment of three years, says Marouane Sefiani, Lead Solution Architect at Signify. Carbon dioxide emissions were also reduced by 250 tonnes a year.
"The payback period is a bit less attractive as electricity prices [in the region] are often much lower than in Europe. But for the same amount of energy savings and investment, carbon dioxide emission reductions are much higher," he says.
Installing solar photovoltaic panels on its warehouses saved Aramex about 60 percent of energy costs. "Each solar farm saves more than USD6,000 every month, and also cuts a lot of emissions," Hattar says.
Effective waste management
Increasingly, companies have been also paying greater attention to waste management, which offers an opportunity to improve sustainability, prevent greenhouse gas emissions and reduce costs.
"The main thing is not to generate waste. We had an initiative to phase out single-use plastic completely," says Florence Bulte, Chief Sustainability Officer at Chalhoub Group.
The company, a UAE-based privately held luxury goods retailer and distributor, also installed smart printers across all its operations, which helped reduce paper consumption by more than 50 percent.
Conducting regular audits, training and raising awareness among employees are key elements of any successful waste management strategy.
"No matter how good your system is, if you don't educate and raise awareness among your team members, it's not going to work," Bulte says.
Last year, Chalhoub's waste management audit revealed that its warehouses were recycling nearly 90 percent of waste, compared to only a quarter at the head office.
Taking its sustainability drive one step further, Chalhoub developed a scorecard for its over 3,000 suppliers to strengthen supply-chain sustainability.
For Aramex, which distributes more than 100 million shipments a year, exploring new technologies such as biodegradable, reusable packaging bags is a way to further reduce its environmental footprint and costs.
Eco-driving
In recent years, eco-driving has proven to be an effective tool for reducing fuel consumption and greenhouse gas emissions, especially on longer inter-city drives.6
In the UAE, RoadSafetyUAE.com has been working together with more than 60 Corporate Social Responsibility-minded brands on various initiatives to improve road safety and protect human lives in line with the United Nations Sustainable Development Goals (SDGs).
"When it comes to driving behaviour, every time we put our foot on the pedal we're producing emissions, except if you are sitting in an EV, or in a hybrid to a certain extent," says Thomas Edelmann, Managing Director at RoadSafetyUAE.com.
"We want to change behaviour in a very holistic manner, not only for the commercial segment, but also regarding our staff, colleagues, employees and big corporations," he says.
Global transport emissions increased by less than 0.5 percent in 2019 compared with 1.9 percent annually since 2000 owing to efficiency improvements, electrification and greater use of biofuels.7
Nevertheless, a greater focus on new technologies and stronger policy action are both needed to further cut the transport sector's carbon footprint.