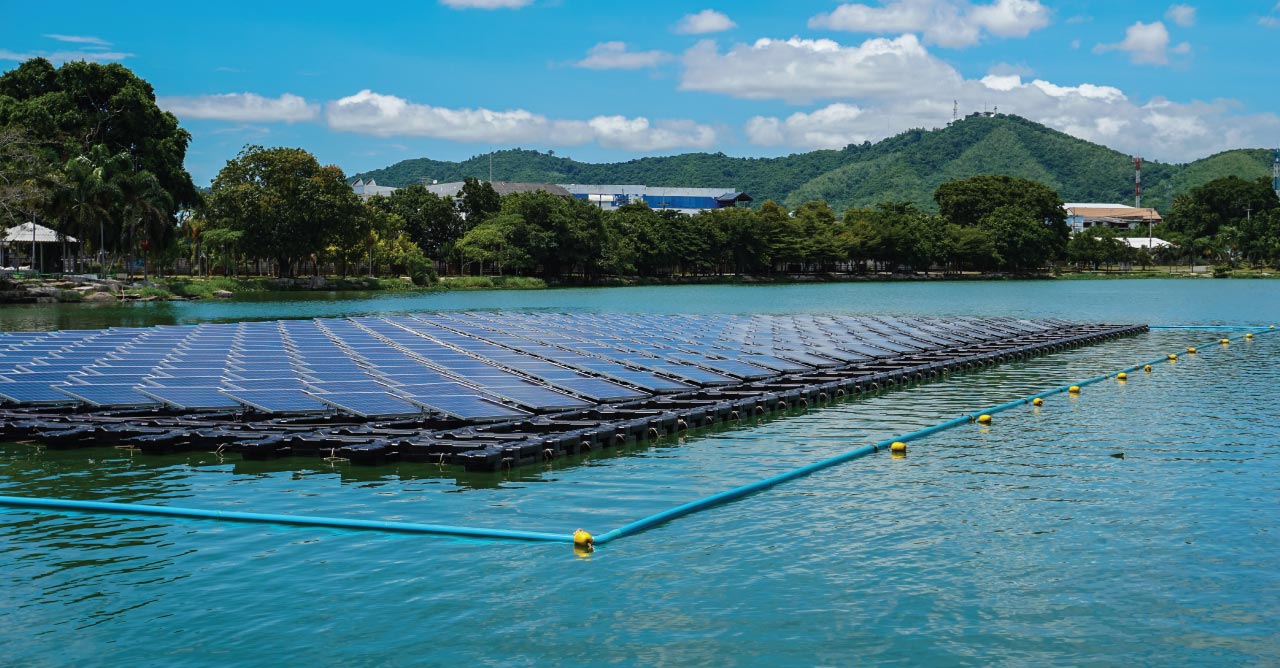 Solar energy projects pick up steam in the GCC
With plunging PV costs and government drives to meet net-zero targets, the UAE and Saudi Arabia offer investors exciting new opportunities in the solar power market.
Solar energy has made quick gains in Gulf Arab countries in recent years as ambitious climate targets and falling photovoltaic (PV) technology costs have helped unleash a steady stream of projects across the desert region.
Beating fossil fuels such as natural gas, oil and coal, as well as nuclear energy, solar PV has emerged as the cheapest source of electricity generation for new projects in Gulf Cooperation Council (GCC) countries.
GCC solar PV market expanding fast
The global weighted average levelised cost of electricity (LCOE) of new utility-scale solar PV fell by 13 percent year-on-year to U.S.$0.048/kilowatt hour (kWh) in 2021, plunging by a massive 88 percent since 2010, according to the International Renewable Energy Agency (IRENA).1
As a result, the six GCC nations – Saudi Arabia, the UAE, Kuwait, Qatar, Oman and Bahrain – are expected to have 40 gigawatts (GW) of utility-scale PV projects and 124,000 solar PV jobs by 2030, IRENA estimated.2
That is a massive leap from 2018, when the region's installed PV capacity totalled a mere 613 megawatts (MW), just 0.6 percent of the overall electricity capacity, with more than 79 percent of it in the UAE, IRENA's data show.
A massive 5,000 MW Mohammed Bin Rashid Al Maktoum Solar Park has been growing in Dubai, while Abu Dhabi is in process of adding 3,500 MW across two sites. In Saudi Arabia, some 10 GW of renewable capacity is in the pipeline with Qatar and Oman also joining in.
By deploying solar and other renewables, the GCC could also save 354 million barrels of oil equivalent, thereby slashing the power sector's carbon dioxide emissions by 22 percent and cutting water withdrawal in the power sector by 17 percent based on the renewables targets in place, the agency says. 2
Over the next five years, the GCC solar PV market is expected to grow at a compound annual growth rate (CAGR) of around 12.5 percent, dominated by the UAE, whose installed solar power capacity jumped by 32 percent year-on-year to 2,439 MW in 2020, according to Mordor Intelligence, a market intelligence firm. 3
Floating solar PVs offer another avenue
In addition to land-based solar plants, floating solar installations (FPVs) on artificial water reservoirs and offshore may provide another avenue to increase the power of renewables in the GCC energy mix in the coming years.
FPVs have an increased energy yield with an additional 10 percent due to the surrounding water's cooling effect, which reduces the number of dust particles settling on panels, according to the Middle East Solar Industry Association (MESIA). 4
A high-level study conducted by MESIA on five of Saudi Arabia's largest dams showed a potential saving of 28.4 billion litres of water every year, while generating 1.5 terawatt hours (TWh) of electricity at the same time.
Globally, the potential for floating solar PV plants – assuming only 1 percent of man-made reservoirs are covered – is estimated at 404 gigawatt peak (GWp), 116 GWp of that in the Middle East and Asia, according to a World Bank study.5
In 2020, Abu Dhabi launched the UAE's first marine floating solar power plant off Nurai Island, which provides an additional 80 kilowatts of electricity to a nearby resort that is also using rooftop and ground PV systems.6
On a much bigger scale, UAE state-owned renewable energy company Masdar is developing a 145 MW floating PV plant in Indonesia, the biggest such project in Southeast Asia.7
Large-scale projects in the UAE
In recent years, the UAE has been making significant progress in increasing the use of renewable energy, aiming to produce half of its electricity from clean energy sources by 2050.
The country has committed an investment of over AED600 billion (U.S.$163 billion) in renewable energy, aiming to be the first MENA country to achieve net-zero emissions by 2050.
A number of large-scale renewable energy projects underway include the Mohammed Bin Rashid Al Maktoum Solar Park in Dubai, which targets 5,000 MW in electricity generation by 2030.
Dubai Electricity and Water Authority (DEWA) showcased technologies used in the project, whose current production capacity is 2,027 MW, or about 14% of Dubai's energy mix, at the World Future Energy Summit in Abu Dhabi.
With investments totalling AED 50 billion (U.S.$13.6 billion), the massive solar park is expected to save over 6.5 million tonnes of carbon emissions annually when completed.8
Besides large government-led projects, Dubai also aims to attract clean energy start-ups with the planned establishment of Dubai Green Zone by the emirate's U.S.$27 billion Green Energy Fund. With the launch of Dubai Green Economy Partnership programme, the government is also looking to boost public-private partnerships to create new business opportunities in the sector.9
Moreover, DEWA's Shams Dubai initiative encourages household and building owners to install PV panels to generate electricity, and connect them to the utility's grid.
In Abu Dhabi, the Al Dhafra Solar PV project, at 2,000 MW the world's largest single solar site, is expected to be connected to the grid in mid-2023, providing clean energy to more than 110,000 households.10
Last year, the Emirates Water and Electricity Company (EWEC) invited developers to submit an expression of interest to develop a new 1,500 MW solar PV project in Al Ajban, which should reduce the emirate's carbon dioxide emissions by more than 2.4 million metric tonnes a year.11
Eight to 11 hours of sunshine a day on average and a plan to make solar panels mandatory for all buildings in the UAE by 2030 make a strong business case for solar industry companies looking to expand in the country.
Saudi, Qatar, Oman joining green transition
Neighbouring Saudi Arabia has also joined the region's green transition, with some 10 GW of renewable capacity, mainly solar PV, expected to be added between 2022 and 2027, according to MESIA.
The kingdom, which aims to be carbon neutral by 2060, plans to boost its renewable energy capacity to 58.7 GW by 2030, from a target of 9.5 GW by 2023. Solar energy is expected to account for 68.1 percent of the 2030 goal.
Boosting the pipeline, the Saudi Energy Procurement Company has launched two new solar projects, totalling 1,500 MW, while ACWA Power has partnered with Public Investment Fund subsidiary Badeel to build a second Shuaiba solar power station.
With a capacity of 2,060 MW, the solar plant will be the largest of its kind in the Middle East and North Africa, according to MESIA. In the Riyadh region, the Saudi Ministry of Energy has granted power purchase agreements to two solar energy projects with a combined capacity of 1,000 MW.
And the solar drive has also spread to smaller GCC countries, which had been slower to initially embrace solar power due to its higher costs compared to fossil fuels.
Qatar, which plans to produce 20% of its energy from solar power by 2030, launched last year its 800 MWp Al Kharsaah Solar PV Independent Power Producer, the country's first large scale solar project. Covering 10 square kilometers, the equivalent of roughly 1,400 football fields, the project features 2 million modules mounted on trackers and a semi-automated cleaning system.12
In Oman, the government inaugurated in 2022 its 500 MW Ibri Solar Power Plant, the country's largest clean energy production facility, which is expected to help reduce greenhouse gas emissions by 340,000 tonnes a year, according to MESIA.
The Oman Power and Water Procurement Company (OPWP) has also announced the launch of two solar energy projects called Manah Independent Power Stations 1 and 2 with a combined capacity of 500 MW, which will be built and operated by the private sector. Commercial operations are scheduled to begin in the fourth quarter of 2023 and the first quarter of 2024, respectively.
The number of renewable energy projects in the GCC region is expected to rise as the price of PV installations decreases and governments commit to reaching climate goals. Solar power will lead the way in the green transition, offering investors a range of exciting new opportunities in the renewable energy market.