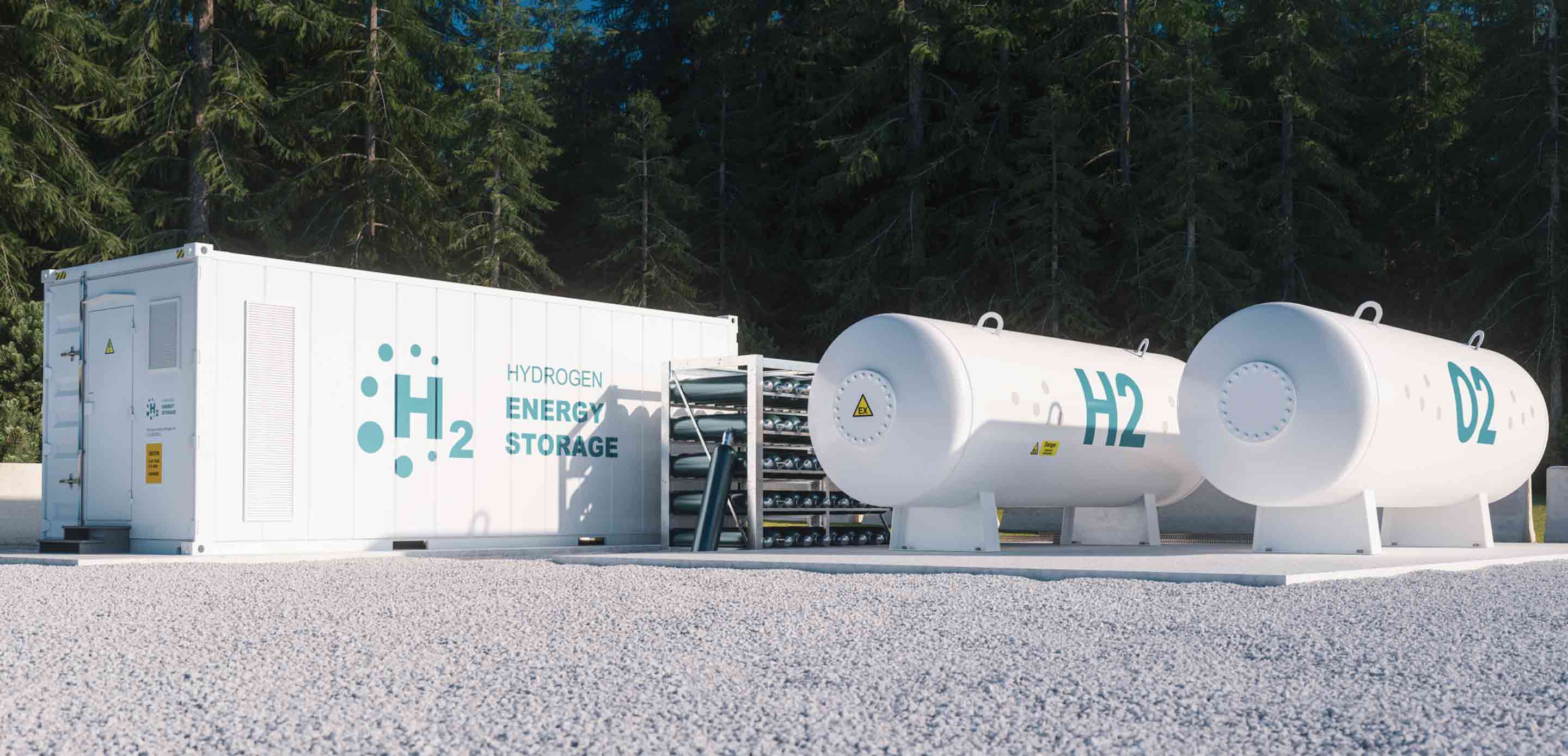 New opportunities in UAE hydrogen industry
The UAE's ambitious plan to capture a quarter of the clean hydrogen market offers exciting new investment opportunities.
Clean hydrogen is set to play a major role in the global fight against climate change. The United Arab Emirates aims to become a key exporter of low-carbon hydrogen in the coming decades, unlocking a range of opportunities in the nascent sector.
In November 2021, the country unveiled its Hydrogen Leadership Roadmap during the COP26 climate conference in Glasgow, setting a target to capture a quarter of the world's clean hydrogen market by 2030. 1
The initiative is part of the UAE's Net Zero strategy to achieve climate neutrality by 2050, when the country plans to increase the contribution of clean energy in its power generation mix to 50 percent from the current 25 percent. 2
Becoming a world-leading authority
Looking to diversify further from fossil fuels, the UAE, one of the world's top oil exporters, has also promised investments of AED600 billion (U.S.$163 billion) by 2050 to meet growing energy demand.
Our ambition is to see the UAE become a world-leading authority on the role of hydrogen in the energy transition.
Global hydrogen demand will reach 115 million tonnes by 2030, up from 94 million tonnes in 2021, according to the International Energy Agency's (IEA) annual Global Hydrogen Review. 3
However, low-emissions hydrogen production worldwide was less than 1 million tonnes in 2021, with almost all of it coming from fossil fuel power plants using carbon capture, the IEA says.
National hydrogen initiatives
In September 2022, the Ministry of Energy and Infrastructure signed an agreement with professional services company GHD Group to develop the UAE's National Hydrogen Strategy. The Fraunhofer-Gesellschaft, a German applied science research organisation, is also a partner in the collaboration. 4
A month earlier, the Abu Dhabi Department of Energy announced that the development of its hydrogen policy and regulatory framework would help the nation become a global leader in low-carbon and clean hydrogen. 5
Dubai's strategy of building a strong export market for locally produced hydrogen could add up to AED32 billion (U.S.$8.7 billion) annually to GDP by 2050, research by the Dubai Future Foundation showed. 6 The amount is around 8.4 percent of Dubai's 2020 nominal GDP, according to data from the Dubai Statistics Center. 7
Besides being a source of export revenue from overseas markets such as Japan, South Korea, Germany and India, the UAE government hopes that clean hydrogen could open a range of opportunities across the electricity, transportation and industrial sectors.
Creating opportunities for clean hydrogen production
The Abu Dhabi National Oil Company plans to increase its carbon capture capacity five-fold to 5 million tonnes by 2030. This would make the emirate one of the world's largest producers of low-carbon blue hydrogen.
The country's first green hydrogen project, a 1.25 megawatt (MW) pilot facility in Dubai's Mohammed bin Rashid Al Maktoum Solar Park, was launched in May 2021. Green hydrogen is produced by using renewable energy sources such as wind and solar power to electrolyse water.
The AED50 million (U.S.$14 million) plant is the first of its kind in the Middle East and North Africa to produce hydrogen using solar power.
Emerging hydrogen hub
In January 2022, Abu Dhabi-based renewable energy company Masdar signed a deal with utility firm ENGIE to explore the development of a green hydrogen facility with a potential capacity of up to 200 MW. 8
A month earlier, the companies formed a strategic alliance to develop a UAE green hydrogen hub, looking to invest around U.S.$5 billion to develop projects with a total capacity of at least 2 gigawatts (GW) by 2030.
The emirate is aiming to build Masdar into one of the world's largest clean energy businesses, with an ultimate capacity of 200 GW, according to Sultan Ahmed Al Jaber, Minister of Industry and Advanced Technology. 9
Masdar has also teamed up with TotalEnergies and Siemens Energy to develop a demonstration plant at Masdar City that will turn green hydrogen into sustainable aviation fuel. 10
Elsewhere, Abu Dhabi National Energy Company and Abu Dhabi Ports are jointly developing a green ammonia export facility in Khalifa Industrial Zone Abu Dhabi. The plant will be fueled by green hydrogen produced by an electrolyser facility paired with a 2 GW solar power plant. It will also feature a storage facility at Khalifa Port. 11
The UAE will be able to produce around 1 million tonnes a year of hydrogen from nuclear power once all four units of the Barakah nuclear power plant in Abu Dhabi are operational. 12
Huge but untapped opportunities
Globally, the pipeline of hydrogen projects is continuing to grow, but actual deployment is lagging.
Some 680 large-scale project proposals worth U.S.$240 billion have been put forward, but final investment decisions have been made on less than 10 percent (U.S.$22 billion), according to the Hydrogen Council. 13
For the world to be on track for net zero emissions by 2050, investments of some U.S.$700 billion in hydrogen are needed through 2030. Only 3 percent of this capital is committed today, the council says.
With the global clean hydrogen industry taking off, the UAE is well placed to capture a sizable slice of the market. Savvy investors should also seize this opportunity to become a crucial part of the world's transition to the green economy.
To learn more about the hydrogen industry in the UAE and UK and opportunities for cooperation in this sector, you can download the "The Role of Hydrogen in the Green Transition" report by clicking on the "Download here" button.
Looking for financial support and expert advice to grow in this sector? Get in touch with HSBC today to open a world of opportunity.