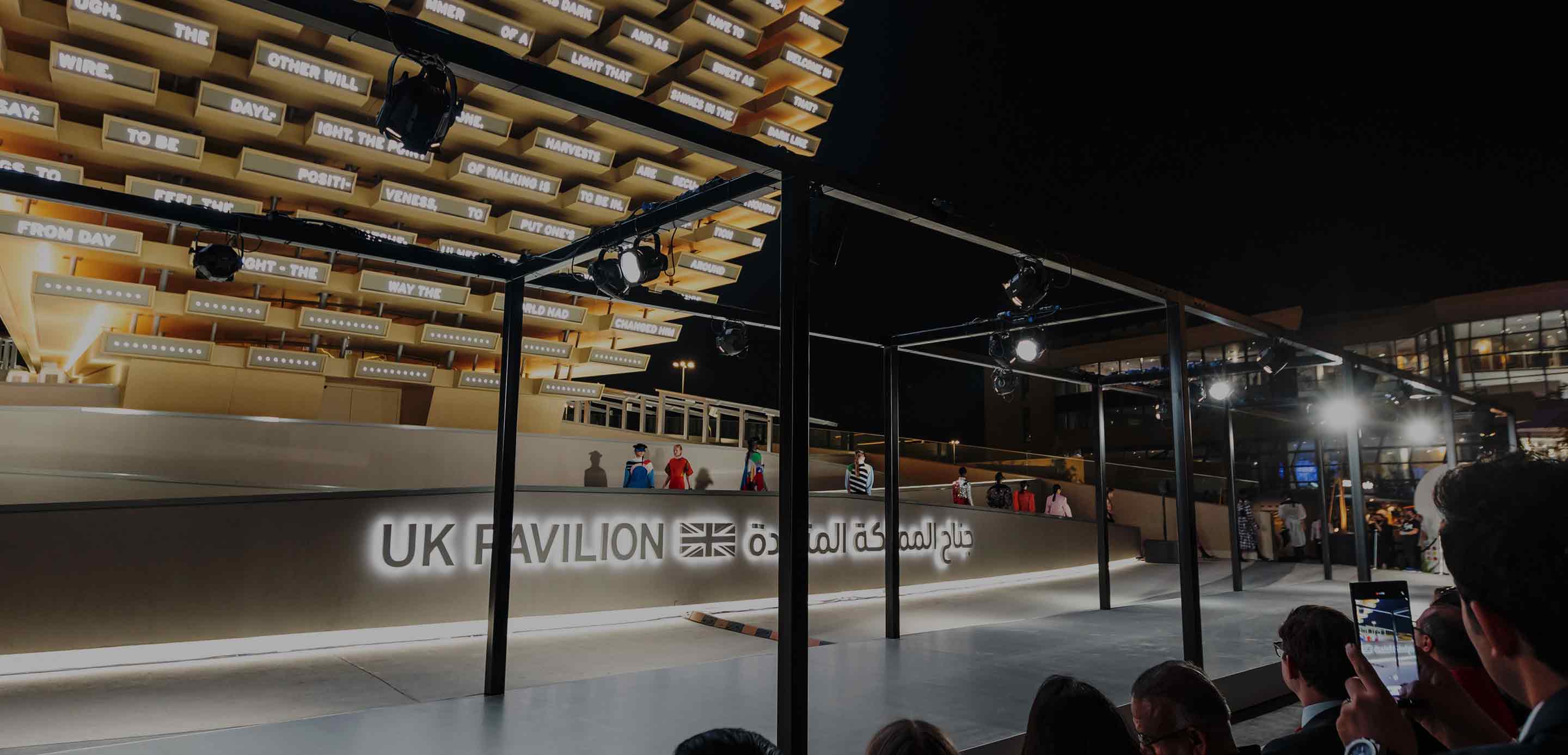 Sustainability

General Sustainability
Sustainable Supply Chain
Circular Fashion Ecosystem
Green fashion is in vogue, with the industry and its consumers fast examining how to shrink the environmental footprint of their wardrobes. Industry experts at a virtual roundtable at the UK Pavilion at Expo 2020 in Dubai tackled how circular principles – a cornerstone of net zero – could support the fashion community's new chapter in 2022.
From mushroom-based leather to plant-based fur and recycled wool, the fashion industry's eyes and ears are open to greener solutions. And it is high time.
The industry is responsible for 10% of annual global carbon emissions – more than all the world's international flights and shipping combined.1 Making just one pair of jeans uses 3,781 litres of water 2 – important to know as water scarcity is one of the greatest risks to our civilization. Plus, the average person buys 60% more items of clothing every year and keeps them for 50% less time than we did 15 years ago.3 Currently, textile dyeing is the second largest polluter of water globally.4 So, what does this level of hyper-choice and hyper-convenience powering the fashion industry's linear business model create? Vast amounts of waste.
But against this unnerving backdrop is very good news. Those along the fashion world's value chain – from manufacturers, to designers, brands, retailers, customers and more – are no longer asking why the industry should green up. Now it is asking how. This heralds a monumental shift that is leading to what could be the most innovative circular chapter in the fashion industry's millennia-old history.
"From fabrics and hemlines, to colours and collars, fashion reflects the popular mood – and that mood is now calling for change. Now more than ever, economic and social sentiment is zooming in on the need to reduce the industry's impact on the planet via circular principles – a spotlight magnified by COP26, the world's largest climate conference in November," highlighted Dan Howlett, Regional Head of Commercial Banking, MENAT at HSBC.
What are the key factors driving the sustainability agenda in fashion?
Start thinking in circles
Firstly, what is a circular fashion industry? In brief, it is a regenerative system in which garments are circulated for as long as their maximum value is retained. Thereafter, the material is returned safely to the biosphere.5 In this vein, ramping up recycling processes and plants is an important next step, as less than 1% of clothing is recycled into new clothing.6 One of the areas that is making big strides thanks to designers, retailers and consumers' growing open mindedness is knitwear.
"Historically, our recycled knitted jumpers with different shades would deter customers. But now, changing attitudes and greater social awareness means the uniqueness of each recycled jumper is now a selling point. Customers know they are buying something that is good for the planet – and they want to play their role and support that change," said Justin Thornton, Co-Founder and Creative Director of Preen by Thornton Bregazzi. Adding to this, Sanal Kumar, the Chairman and Managing Officer at the Classic Fashion Apparel Industry, said his customers are also eager for more environmental visibility as they look to make constructive changes in their own lives. For example, they can now see how many water bottles have been recycled per garment – an important step to deepening brand loyalty among existing customers, workers and stakeholders.
Scaling up the use of biodegradable materials – those that can be used in compost at the end of life – is another critical step to explore in 2022, roundtable speakers stressed. So is looking at the holistic impact of a garment, not just the item itself. This encompasses the fuel used to transport the item – i.e., by road, air or sea – and the sustainability of the packaging and labels. It also includes how often the garment needs to be washed, how easily it can be repaired, the durability of the buttons and the recyclability of the label, for example. As a very basic equation, an item that is washed less often immediately supports a more circular wardrobe – every action counts, no matter how small. The same applies to energy and water usage.
"We plan to consume at least 50% of our energy via renewables and we have already switched from heavy oil boilers to gas-powered systems. So far, we are also reusing 97.2% of our wastewater," said Kumar. Such proactivity speaks volumes for boosting the confidence that Classic Fashion's workforce of 26,000 people has in the company's environmental evolution – a valuable example for the fashion community. We are all very familiar with the importance of customer loyalty, but the value of workers' environmental empowerment is also rapidly climbing the agenda. Employees today, especially younger generations, want to be agents for positive change in the companies they work for – to be proud of their company's environmental credentials. The same applies to upskilling and reskilling existing and potential employees' knowledge of sustainable practices in fashion, with circularity at the core of this curriculum. Overall, employees increasingly want transparency about not just the supply chain, but their "green role" within it. This all directly feeds into their level of emotional commitment to their role – thus their appetite to innovate – and their longevity with the company. The fashion community must pay as much attention to this fast-emerging dynamic as it does to customers' desires and the bottom line if it wishes to find environmental equilibrium in the 2020s. It must focus on the social power that lies within its workforce – a people-centred approach is vital.
What is your company doing to drive its sustainability agenda?
Explore local options
Having established complex cross-border supply chains for decades, the push for circularity has many in the fashion industry seeking local options again, roundtable speakers pointed out. There are multiple benefits. It means less CO2 emissions from transport and less waste from packaging, with a hands-on approach enabling greater environmental oversight. Brexit has also increased the complexity of shipping goods in and out, roundtable speakers added.
Truly leveraging the benefits of local operations also means supporting local social ecosystems more than ever before – a win-win for workers, employers, governments and the environment. For example, establishing more mechanical and chemical recycling units for the UK's fashion and textiles industry would support much-needed employment in local communities – especially amid and post the Covid-19 pandemic – and strengthen the value of national intellectual property (IP).
"Dormant areas within the UK that need employment can use the need to embrace circular fashion – such as far more recycling, something forward-looking designers are looking for – as an opportunity to reskill and upskill. This positive impact reverberates through the "hearts and minds" of the local community, while also supporting employers' ESG objectives. It is exciting to think what it could look like, especially as the government is aware of the value of a circular economy. Industry working hand-in-hand with government – including in areas like co-investment, staff training and consumers' awareness – would really help supercharge momentum," said Caroline Rush, CBE and Chief Executive of the British Fashion Council.
A collaborative spirit between industry and government must also play a big role in helping develop the fashion industry's "green talent of tomorrow", roundtable speakers said. Much of the young talent seeking careers in fashion are looking to leaders for guidance on what a circular world will look like – the fashion industry must start providing answers. This starts with helping integrate circular principles into the curriculum and providing training and apprenticeships in sustainable methods– both pivotal to curating a modern and inspired workforce.
"We all need to dance together to move the needle and achieve a sustainable ecosystem," encapsulates Florence Bulte, the Chief Sustainability Officer at the Chalhoub Group.
What are the roles of consumers and government in accelerating the shift to a circular economy?
Pinning down the details
Fashion is a complex industry with extensive global supply chains – nearly all of which are working at fever pitch to satisfy our intensifying appetite for "more". This means greater visibility along the value chain is paramount; the industry cannot mitigate what it does not measure. In turn, employees and customers cannot act as proactively as possible if there is a veil of misinformation.
What we do know is that fabric manufacturing process contributes 22% of the emissions from a garment, detailed a recently released whitepaper by HSBC and Boston Consulting Group (BCG). Making the garment accounts for another 30-40% via high-energy processes, like bleaching, dyeing, finishing and assembly. Then the actual use of the fabric represents another 25-35%, taking washing and drying into account. This is not to mention the carbon footprint attached to the original raw materials.
While very valuable, such knowledge is the tip of the iceberg when it comes to circularity across the global fashion industry. Stakeholders must work together in 2022 and beyond to pin down more traceability and accountability, share best practices and innovate. Therein lies the role of Serai, an HSBC-backed innovative digital trade platform where buyers and sellers can connect and access trade solutions to build more efficient and transparent supply chains, which in turn has the potential to have a vastly positive social impact.
"How businesses connect with each other day-to-day, including changes they make to help empower their staff and stakeholders, makes a huge change over decades. This most certainly applies to how we address circularity in fashion. Every effort today – from designers seeking recycled materials, to innovation among the workforce and customers making conscious decisions – will reverberate in our future. The more we work together, the better for both the environment and society," explained Vivek Ramachandran, the CEO at Serai.
Ramachandran also quotes recent KPMG and Serai study showing that over 80% of the industry plans to have a transparency solution in place by 2027. Whilst the majority of apparel firms plan to increase supply chain transparency, obstacles remain, a global survey finds. The most prevalent barriers holding back the industry from achieving transparency are high initial investment and difficulties in obtaining and managing data from other companies in the supply chain. Still, 65% of industry respondents were willing to disclose their supply chain traceability policy. This proportion is much higher for suppliers in North America (80%) and Europe (81%). To move forward, the industry will need to overcome challenges associated with the consistency and quality of data.
Why supply chain transparency is critical to sustainability in the fashion industry?
Put yourself under the spotlight
Buying something is an emotional reaction, which means we make an active choice: to buy or not to buy, to mend or replace, to recycle or put in the bin? This is where consumers' responsibility comes into play – a link in the chain that cannot be underestimated. Consumers hold huge power, so now it must be exercised for positive social change. Ask yourself: what proactive steps am I taking to support circular principles and in turn, my broader social environment?
One very easy step that would make a big collective difference is for each of us to buy at least one less textile item – such as clothes, bedding, cushions – in 2022. If everyone in the UK did that, it would amount to 77mn fewer textile items clogging the environmental system. Or if everyone person committed to buying one recycled item in 2022, it would save 77mn garments going to landfill, where they take centuries to degrade.
Small changes to our fashion mentality are worth it to help save the planet – right?
How can a circular economy contribute to government's clean growth agenda and to meet the 1.5 degree pathway?
1 World Bank
2 United Nations Environment Programme (UNEP)
3 CBI, UK Ministry of Foreign Affairs,
4 UNEP
5 Motif
6 Global Fashion Agenda