Optimising Sales

Seeking New Opportunities
New Norms for Higher Education
The reality that we're in a new era of education is sinking in. The education sector is not in a hiatus from normality; many of the changes triggered by the COVID-19 pandemic this year will be permanent for educators and students alike.
Are the days when a teacher wipes the blackboard clean, opens their classroom door and welcomes a bustle of students in over? Not entirely – but future learning will be far more multifaceted. The unexpected disruption seen in 2020 is actually helping traditional models reconsider their approaches to both teaching and learning, according to students from universities in the UAE and the UK during the Future of Higher Education Virtual Boardroom hosted by HSBC, in collaboration with the UAE Federal Youth Authority.
"There's no question that this change is what we've been waiting for; the education sector must evolve. As a training teacher, I'm working with educators and we can be traditionalists in our approach. When all teaching and learning started going online earlier this year, it was met with a bit of fear and panic. But that's now changing," a teacher from Dubai's University of Wollongong explained.
Digital Impacts
A virtual platform has long been on the cards. Progress was being made, but the COVID-19 pandemic has dramatically accelerated the reform clock. A forecast released in December 2019 suggested the world's online education market would hit US$350 billion by 2025 worldwide1 – and this was before the surge in online learning this year.
"This is part of a broader shift towards the 4th Industrial Revolution (4IR) that we're seeing in so many places around the world," said Dan Howlett, HSBC's Regional Head of Commercial Banking. HSBC believes that education is a crucial pillar in the socio-economic development of the region, as is technology advancement. This year has seen a greater merging of these two worlds – education and technology – than ever before.
More than one billion jobs – almost one third of all jobs worldwide – are likely to be transformed by technology in the next decade, according to estimates from the Organisation for Economic Co-operation and Development (OECD).2 And by 2022, the World Economic Forum (WEF) expects 133 million new jobs in major economies will be created to meet the demands of the 4IR.3 For context, this volume of jobs equates to nearly ten times the size of the UAE's entire population in less than two years. Despite the current disruption, educators must ensure that holistic digital literacy rules over piecemeal adoption.
Blended Environments
Learning purely through a screen was not favoured – a point all speakers and our insight polling highlighted. More than two thirds (72 per cent) called for more blended learning during the HSBC Virtual Boardroom.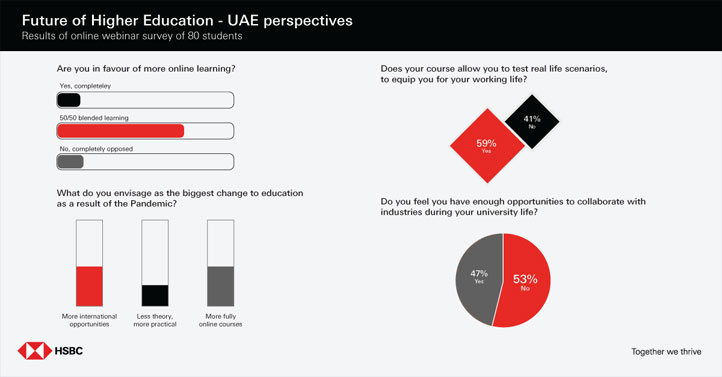 "On one hand, I see the cost of online studying declining as schools and universities have a larger capacity for teaching, which opens up new avenues for students to embrace higher education," Gemma Wild, HSBC's Regional Head of Education, said. "But while the enhanced flexibility in education this year has undeniably had excellent benefits, the blend of online learning and face-to-face learning must become more sophisticated. We can't have one or the other – both are key."
Students and teachers alike agreed, saying online learning only risks diluting the co-creation of ideas and knowledge building – essentially the heart of academia. Plus, online education restricts much-needed tangible learning experiences for students studying medicine, engineering and psychology, for example.
This is why greater collaboration between academia and industry is vital, especially during times where the unknowns exceed certainties. More than half (53 per cent) of participants who attended the Virtual Boardroom, said they didn't have enough opportunity to participate in industry, during their university years. Accordingly, HSBC is looking at project-based learning – bringing real-world and practical experience to the classroom theory. One avenue is the establishment of Tatawwar, which means 'development' in Arabic, and was launched in partnership with Potential.com. It aims to bring together students, parents, schools and the business community together.
While the enhanced flexibility in education this year has undeniably had excellent benefits, the blend of online learning and face-to-face learning must become more sophisticated. We can't have one or the other – both are key.
Build back better
Social and emotional tools are some of the most important skills you can learn as a human being, let alone as a student, speakers stressed during the Virtual Boardroom. Students agreed that whilst adoption of technology and use of it within education is no longer a question, the consensus was that soft skills such as social, cultural and mental skills are skills that shouldn't be left behind and that a physical presence will be required to develop these core skills. This is especially true as the world moves into an era where adaptable intelligence and emotional intelligence are increasingly prized – both in academia and the workplace.
To help reinforce these skills, and thus students' employability, testing methods must be revamped. Current methods predominately test what you can remember, rather than how you can critically think around a subject to provide an innovative solution. And of course, it's the latter that the workplace desires, especially in an era of the 4IR. A new system of testing – both online and in classrooms – must be developed to spur students' ability to learn independently, speakers said. Ideally, teachers and professors will be more like facilitators of knowledge, rather than holding students' hands through their education, one student said.
Arguably, this year – with so many students disrupted and having to find their feet with home learning – has done exactly that. At the end of March, there were 1.5 billion affected learners – 82.8 per cent of the global total – with 166 country-wide closures, UNESCO's data revealed. Six months later in October, there were still more than half a million learners affected – 33 per cent of the global total – with an estimated 34 country-wide closures.4 Unsurprisingly against this backdrop, students urged the education sector to put more of a spotlight on protecting learners' mental health.
As the region transforms and adapts in the post COVID-19 world, educational institutions at all levels have a golden opportunity to leverage the current momentum to sustain positive changes in the education sector. In short, it's an opportunity to build back better – notably for our intellectual resilience and for our academic creativity. Wild concluded the Virtual Boardroom, with a sentiment that applies to every student and teacher worldwide: "We can't control the world but can control our paths within it."
With education being a key growth area for the Middle East, contact us to discuss how HSBC can support your plans in the sector.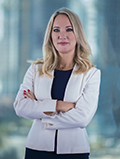 Gemma Wild
HSBC MENAT Sector Head, Education