Innovation & Transformation
Together with Trella
Trella worked with HSBC to navigate supply chain disruption and improve efficiencies during COVID-19.
Trella, Egypt's largest digital trucking marketplace operator, reorganised its business model and improved efficiencies, whist staying flexible to the needs of both carriers and shippers, in order to ride out adversity during COVID-19.
Like many other firms, supply chain disruptions stemming from lockdowns and factory closures strained Trella's finances. Yet the company continued to pay truck operators, while facing a money collection challenge from corporate shippers hit by the pandemic.
"We had to reorganise our business model to find efficiencies, and processes we needed to improve on," says Hatem Sabry, Trella's CFO.
"Staying connected to our carriers and shippers was the main focus during COVID-19," he says.
Every Challenge is an opportunity
The pandemic challenged the trucking industry's heavy dependence on paperwork and cash, giving Trella a chance to switch its carriers and shippers onto digital payments, invoices and other documents.
Shaking up the industry's older traditions, the company has managed to go 80 percent cashless, with a plan to achieve zero cash payments by the end of this year.
"COVID-19 is a massive opportunity for us to accelerate this disruption in the industry, digitisation of the process itself and going cashless in a lot of processes," says Sabry.
While the company saw some decline in volumes during the pandemic, it never stopped supporting its community, arranging essential supplies of food and pharmaceuticals to those in need.

Disrupting the trucking industry
Founded last year, Trella aimed to disrupt Egypt's fragmented conventional trucking landscape, which was devoid of technology. The firm connects shippers with carriers through its online marketplace, which tracks shipments in real-time and reports key insights on transportation trends and performance.
The Cairo-based company employs over 100 people in Egypt and Saudi Arabia, empowering drivers and cutting costs for shippers by connecting them digitally, improving load utilisation, introducing a transparent pricing structure and inducing efficiency within the network.
The acquisition of its local rival Trukto in 2019 boosted Trella's network to more than 10,000 truckers, making it the trucking marketplace leader in Egypt.
Industry pioneers with HSBC
Trella, which added Saudi Arabia to its market portfolio this year, will imminently reveal an expansion plan to accelerate growth in the Middle East and North Africa region.
With the pandemic raging, HSBC on-boarded the company three months ago as Trella's key partner on this journey.
"We approached HSBC because we really admire the network that HSBC has globally," Sabry says.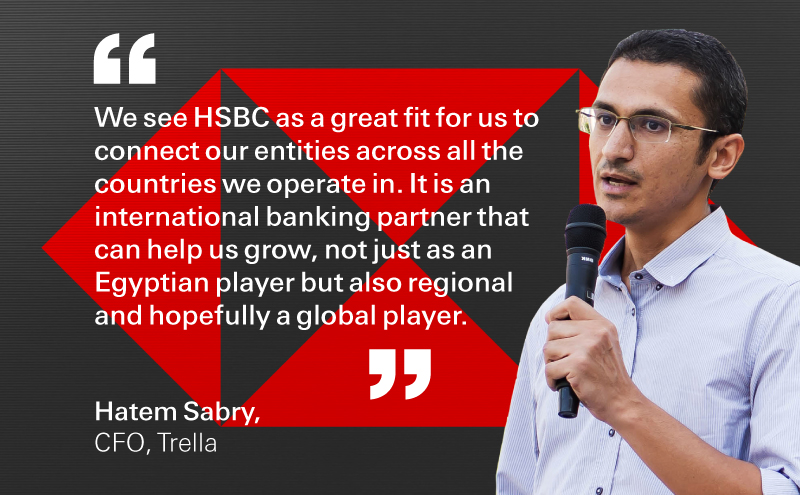 Looking to expand the benefits of the new relationship, initial discussions have already taken place between the company and HSBC regarding supplier finance and other opportunities.
"We also want to start discussions with our shippers on how we can better finance business across the value chain, in partnership with HSBC," Sabry says.
HSBC is working to provide the right support to help Trella grow and expand internationally in line with the bank's commitment to support wider SME businesses.