Innovation & Transformation
Together with PDS Multinational
The 6Cs risk management framework and seamless, flexible banking helped the leading apparel group navigate the coronavirus pandemic.
PDS Multinational turned to risk management, collaboration and tighter cost control to conserve its resources and manage unprecedented challenges posed by the coronavirus pandemic.
Even before the pandemic, PDS Multinational applied the so called 6 C's framework in its risk management strategy, which stands for Credit, Compliance, Currency, Compliant Capacity, Customer Dependency and Cost.
"As the company grew, risk management became an integral part. We came with a framework of 6 C's," says Pallak Seth, PDS Multinational Vice Chairman & Founder.
Ecosytem Collaboration
With regards to customer dependency, PDS Multinational now aims to have none of its customers contributing more than 15 percent to the whole group's revenue. Currently, its top 20 customers contribute to 70 percent of the total revenue.
The company is running an on-boarding platform for entrepreneurs to source and produce apparel for the world's leading retailers and brands and PDS Multinational has also made available the introduction of collaborative tools, such as a joint profit and loss statement (P&L) to enhance partnerships among its on-boarded entrepreneurs.
"Just in the last 12 months, based on this collaborative business model, we probably generated $200 million of revenue, as people got aligned," Seth says.
In order to help hard-hit garment factories, such as those in Bangladesh, which lack adequate credit insurance facilities, PDS also sponsored a webinar with BGMEA, leading Bangladesh banks and AON to share its knowledge on how to manage business risk.

Cost Control
"We have set-up a central team to monitor all the costs and make sure all receivables are collected on time to bring utmost cash into the system to avoid any issues," adds Seth.
PDS also set out to minimise net worth dilution in order to keep its balance sheet strong and meet all statutory liabilities and compliances as well as its banking commitments. It reached out to its customers and employees to keep their confidence up, eager to retain its top talent and ensure it can scale up its business as soon as the situation normalises.
Compliance is still also key as the group's production around the world needs to match standards of big retailer brands such as Walmart and Tesco.
Seamless Support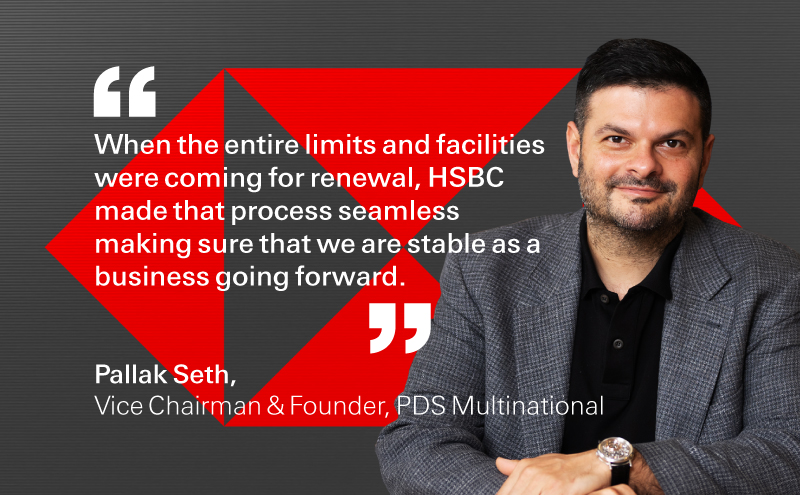 "HSBC Relationship Managers support us across several jurisdictions. They helped us to move our limits from one region to another during the crisis, which was a great help," he adds.
When everything was in a lockdown, PDS was able to benefit from HSBC's digital solutions for trade finance through its trading platform, which it considers as the most efficient and easy to use on the market, as well as from a risk insurance to keep production running.
Opportunities On The Horizon
The pandemic also presented an opportunity to assess and take-over smaller companies impacted by the crisis and on-board them on the PDS platform.
In addition, the company decided to push ahead with restructuring considered before the COVID-19, temporarily reducing its overhead by almost 50 percent for about 6 months. Restructuring is set to continue over the next two to three years as the company is striving to become leaner and stronger.