Innovation & Transformation
Together with DeFacto
With the right financing and online banking tools, DeFacto navigated the COVID-19 pandemic.
One of Türkiye's leading fashion brands, DeFacto's first priority during the COVID-19 pandemic was to focus on securing its cash flow and managing costs.
In the face of coronavirus restrictions, DeFacto, which operates over 500 stores in 50 countries, had to move quickly to weather an unprecedented challenge to its business.
"We had to secure cash immediately and then we concentrated on cost management," says DeFacto CFO Önder Şenol.
The company worked on five different scenarios to successfully manage the COVID-19 crisis. "We are very sensitive about cost management. But during COVID, we became even more attentive to these details," says Şenol.
E-commerce lifeline
Luckily for DeFacto, the company had recognised the importance of e-commerce well before the emergence of COVID-19, selling online in 20 countries while implementing applications such as Click & Collect, Ship from Store and Pay at Store.
That strategy has paid off handsomely, keeping sales ticking through the lockdown when the company, which saw its sales rise by 35 percent on average in the last three years, had to close down its stores in Türkiye for nearly two months.
"It helped us a lot during the pandemic. We have never stopped our online operations, not for a single day," says Şenol. "Our performance is above the level we expected in the first period of the pandemic."
Helping communities
DeFacto believed in the importance of the spirit of solidarity to overcome these challenging period and mobilised all their resources for this to contribute to its community. The company provided 2 million masks as a part of the "We are Self-Sufficient, Türkiye" campaign and distributed clothing sets for more than 500 healthcare workers in hospitals on a daily basis.
The crisis also made DeFacto rethink the health of its supply chain, but did not stop the company from moving forward with its procurement promises, announcing a TRY 900 million plan to provide a lifeline to its suppliers.
Financing and digital support
With HSBC's help as a sole arranger, sole coordinator, bookrunner and a participating bank, DeFacto was able to raise $53.2 million internationally through a syndicated financing facility to support its business against the impacts of COVID-19.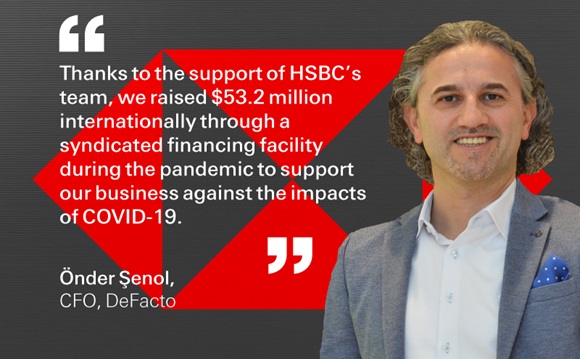 "Recently, we closed a syndicated facility and thanks to the support of HSBC teams in Türkiye and Middle East, we managed to close the deal during the pandemic, despite the challenging environment and risk factors," Şenol says.
The successful closure of the syndicated facility is also a testament to foreign investor confidence in the company as it supports the community during pandemic and embraces sustainability, generating 5 percent of its annual turnover from a special water-saving collection scheme involving plastic waste and recycled fabric.  
As HSBC, we are acting as a facilitator to draw investment to Türkiye and offering access to various financing instruments to help and support customers and create sustainable value for the Turkish economy," says Selim Kervancı, HSBC Türkiye CEO.
Another keyway that DeFacto maintained its operations and international profile was through digital banking. The company's widespread use of HSBC's digital banking tools allows it to track all accounts on a single platform, already invaluable before the pandemic hit, but proving even more important and efficient as the crisis unfolded.
The pandemic also represented an important learning lesson for DeFacto, emphasising the need to plan for unexpected hurdles and ensure contingency plans are in place.
"A company's resilience and readiness to endure unforeseen challenges have never been as important as today. Companies should be prepared before a crisis occurs," he concludes.
Disclaimer
This information is not intended as an offer or solicitation of the purchase or sale of any instrument referred to herein abroad or within the country. Should you wish to undertake transactions in any instrument, please refer to your local sales contact at HSBC.
There may be cross border restrictions to undertake any of the products or services contained within the information here. The information provided here is by no means to analyse these restrictions and make a recommendation and is purely for informative purposes. All kinds of transactions shall be subject to business conduct of HSBC Bank A.Ş. and compliance to local legislation. No information in this document is provided by HSBC for the purpose of offering, cross border marketing and sale by any means of any banking services outside of Republic of Türkiye.