Growing my Business

Seeking New Opportunities
Cities for the new age: Sustainable, efficient and powered by tech
With cities hosting and facilitating economic growth worldwide, governments and corporations have been looking to improve their efficiency, liveability and sustainability.
Middle Eastern governments, facing the twin challenges of growing urban populations and a need to find non-oil sources of revenue and they are reimagining cities as engines of sustainable growth, driving trade, investment, new sectors, and jobs.
Recent World Bank [1] forecasts predict that 7 out of 10 people will live in cities by 2050. As the global population surges towards 9 billion people, this places a huge burden on expanding metropolises, forcing urban planners to rethink traditional models.
"Well-planned, compact, and connected cities can increase productivity and boost a city's competitiveness; improve livability by providing access to land, housing, transport, and services; and protect the natural environment," according to the World Economic Forum. [2]
The World Bank notes that 80 percent [3] of global GDP is already generated in cities, a number likely to increase as digital infrastructure and solutions evolve to serve many more facets of urban life.
Cities from scratch
"The term 'new cities' covers all urban development that is built from scratch in a bounded location where a city previously did not exist, with a scale large enough to support a range of housing types, facilities, and opportunities for residents – including social, cultural, and employment opportunities," according to Professor Greg Clark, Global Head of Future Cites and New Industries, HSBC.
Clark notes that new and master-planned cities are being pursued because of their potential to relieve overcrowding and infrastructure stress in existing metropolises, integrate new technologies from the outset, creating large investable sites while establishing visible centres of economic specialisation, creating jobs and housing for an enlarged population base.
Other key reasons are to "avoid pollution, traffic and inefficiencies of existing cities, avoid mistakes of the past, re-invent and test the way cities are planned and run, and enhance environmental performance and sustainability," Clark furthers.
An efficient city can reduce daily commute by 15 to 30 minutes, reduce cost of living by up to 3 percent, cut greenhouse gas emissions by as much as 15 percent and create 3 percent more jobs annually, found McKinsey Global Institute.
In the Gulf, the cities of Dubai and Abu Dhabi are leading the way in mobility, utilities, security, healthcare and economic development. In a recent survey of selected global cities by McKinsey Global Institute, Dubai scored 30.5 points on those criteria, not far behind leaders New York City (34.5), London (34.5) and Seoul (33) points. Abu Dhabi garnered a respectable 28 points.
Urban green spaces
Some new Middle East cities, especially in Saudi Arabia, are on greenfield sites, while others are near established metropolises. Among the earliest efforts to diversify, has been Masdar City [6] in Abu Dhabi, 20 minutes from downtown. First created in 2006, the city is a low-carbon district comprising a budding clean-tech sector, a free zone for businesses, and a residential neighbourhood with all the amenities.
The city is already home to the global headquarters of the International Renewable Energy Agency (IRENA) and is a popular location for pioneering research and development facilities that drive new knowledge from within the ecosystem, while nurturing and implementing a number of ground-breaking solar energy, energy storage, green building, and urban sustainability projects.
In April, the city [7] celebrated its 14th anniversary. "The world was a very different place in 2006, when we began our pioneering mission to make viable sustainability solutions a reality. Global capacities for solar and wind power were less than a tenth of what they are today, and the U.N. Sustainable Development Goals were still almost a decade away," said Mohamed Jameel Al Ramahi, Chief Executive Officer of Masdar. "In 2006, few people believed that Abu Dhabi's target of 7 percent of its energy mix coming from renewables by this year was realistic – Masdar has played its part in helping Abu Dhabi far surpass that goal, and we are committed to supporting the UAE's even more ambitious 50 percent goal by 2050." [8]
A number of pilot projects – including a Personal Rapid Transit (PRT), an autonomous NAVYA shuttle, electric shuttle cars, and electric and public buses – are also under way. The city's future transportation options include a Metro line, Light Rail Transit (LRT) and Group Rapid Transit (GRT).
Among the most advanced cities in the Middle East in terms of building new urban districts is Dubai, which has over the years created a number of new cluster districts, such as Jebel Ali Free Zone, Dubai Media and Technology cities, and Dubai International Finance Centre, which borrow some of the elements of urban tech development but are still part of the wider fabric of the city.
Constant innovation and new areas such as District 2020, which aims to repurpose the site of Dubai World Expo 2020 into a 21st Century lifestyle and advanced industries cluster, allow the emirate to boost and upgrade its infrastructure.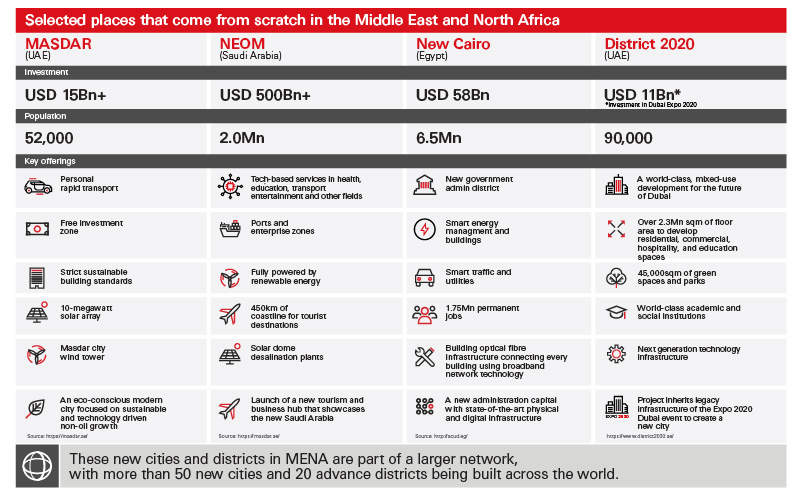 Sustainable cities
Saudi Arabia is also developing a number of cities, the most ambitious among these new hubs is the U.S.$500 billion NEOM City, spearheaded by the Public Investment Fund (PIF), on the Kingdom's northwest coast.
The 26,500-square-kilometre project is expected to be completed by 2025, contributing around U.S.$100 billion to the Kingdom's GDP by 2030.
Brandishing its renewable energy credentials, NEOM[9] signed an agreement with U.K.-based Solar Water Plc. to build the first-ever "solar dome" desalination plant, set to be completed by the end of 2020. The city's building codes will make net-zero carbon houses the standard.
This model will gain momentum as authorities look to develop more self-sustaining cities. Looking to North Africa, we see the Egyptian government leading the way in new districts with the U.S.$45 billion New Cairo project, which will gain more traction in the post-COVID environment by diverting from the heavily populated and congested city of Cairo. In addition, the new administrative capital could usher in new investments and jobs without the need to uproot legacy infrastructure.
Lessons from the West
Stand out examples such as the Lake Nona [10] project in Orlando Florida has emerging as a hub for technology, innovation and community. The 44-square-kilometre district is aspiring to become a sustainable city where 12,000 knowledge workers can live and work. As much as 40 percent of Lake Nona will be reserved for open green spaces, and it's looking to attract a number of medical universities to create a self-contained knowledge hub. The project is being developed by Tavistock Development Company.
Last year, the company introduced all-electric autonomous shuttle in the project in partnership with the cities of Orlando and Orange County, as part of its continues efforts to explore new innovations in the urban environment.
"This is an incredible win for the region and yet another example of how the right public-private partnerships can distinguish themselves and win big when we collaborate together," said Rasesh Thakkar, Senior Managing Director of Tavistock. "The Local Alternative Mobility Network is a forward-thinking project within the Lake Nona living lab environment that will better position Orange County and Orlando for a new wave of multi-modal transportation solutions, all with a view toward scaling the learnings from this innovation to the rest of the region, the state and the country."
Looking to the East
In Asia, Seoul is becoming a pioneer in its urban tech development. It has proactively resolved its transportation challenges by leveraging technology and smart planning, and focusing on conserving energy.
"Open data makes people better informed and enables them to generate smarter solutions to their problems," according to the World Bank [12]. "Seoul's smart city planning puts much effort in opening government data and building consensus through public participation."
Other cities in Asia, such as Hangzhou in China and Pune in India, are also building on existing infrastructure rather than developing new locations. New cities are expected to play a key role in driving economic growth, reinforcing a country's advantages in certain sectors, and also serving, in many cases, launching pads for new industries. They also have the advantage of creating new work-live-play dynamics that feed off each other, attract skilled workers and lay the groundwork for innovation to thrive on.
The term 'new cities' covers all urban development that is built from scratch in a bounded location where a city previously did not exist, with a scale large enough to support a range of housing types, facilities, and opportunities for residents – including social, cultural, and employment opportunities,