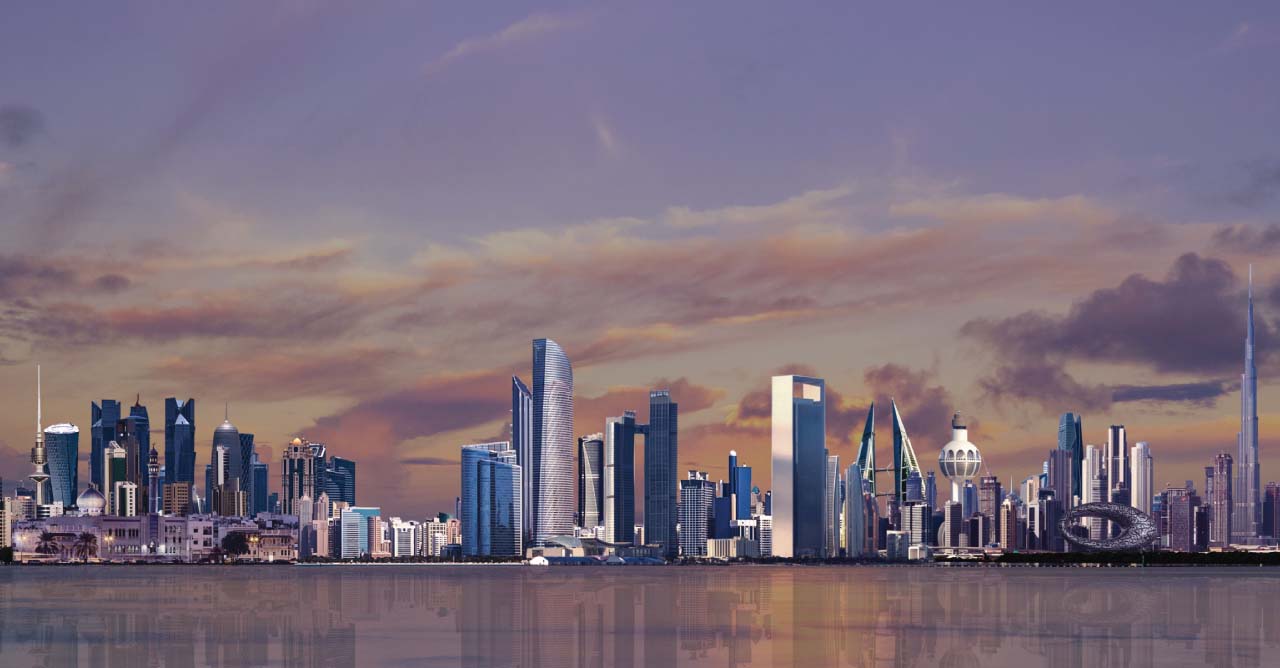 Growing my Business

Seeking New Opportunities
Expanding Abroad
Booming MENAT a magnet for Chinese investors
Rapid transformation and massive investment plans across many sectors attract Chinese investors to Saudi Arabia and the UAE.
The Middle East's rapid economic transformation and China's pro-growth policies offer great business opportunities for Chinese companies and investors looking to expand across a broad range of sectors from energy transition and international trade to manufacturing and new technologies.
The economic potential of the booming Middle East-China trade corridor was the focus of discussion at an exclusive International Connections briefing organised by HSBC and the UAE China Business Council.
Hosting Zhang Yiming, China's Ambassador to the UAE, and a senior council delegation, the event was attended by over 100 representatives from Chinese enterprises operating across the Middle East North Africa and Turkey (MENAT) region.
China's pro-growth policies and the Middle East transformation agenda offer significant economic opportunities in international trade, investment, wealth, infrastructure and energy transition.
"And connecting investors to these opportunities is what I would like to think that HSBC is really good at doing," he says.
HSBC is the largest and most widely represented international banking organisation in MENAT with a presence in nine countries and assets of U.S.$71 billion.
Project spending
The Gulf region as a whole, led by Saudi Arabia and the UAE especially, is passing through an exceptional period of remarkably strong growth rates underpinned by robust consumption and labour market as well as a steady population increase, according to HSBC Global Research.
In the UAE, the economy is projected to expand by 4.0 percent annually on average over the next five years until 2027, while the Saudi real gross domestic product (GDP) is likely to grow at a slightly slower 3.0 percent, according to April forecasts by the International Monetary Fund (IMF).1
Keen to diversify away from the hydrocarbons, the region has big plans for infrastructure development, investment in industry and manufacturing along with housing, and the investment cycle is still just beginning.
In Saudi Arabia alone, massive U.S.$847.4 billion worth of capital spending on various projects is planned by 2050, with mere U.S.$29.8 billion awarded so far, according to HSBC Global Research.
The kingdom aims to invest more than U.S.$186 billion into the green economy transition in the coming years, while the UAE plans to spend AED600 billion (U.S.$163 billion) to achieve net-zero emissions by 2050.2
One significant risk facing the regional outlook are oil prices, which HSBC Global Research expects to be fluctuating between U.S.$70 and U.S.$90 per barrel over the rest of this year and next year.
But that vulnerability is being reduced by enormous structural reforms in both Saudi Arabia and the UAE such as the latter's landmark legal change to allow 100 percent foreign ownership outside of free zones, something which is expected to appeal to Chinese investors.
Soaring BRI engagement
Strong trade ties between China and the Middle East have helped expedite the recovery of trade and investment flows between the GCC countries and China post the global COVID-19 pandemic.
Serving as a gateway to the wider region, the GCC-China trade surpassed the bloc's trade with the United States and the euro zone combined for the first time in 2021.3
Meanwhile, trade between China and the UAE reached a record high of U.S.$99.27 billion in 2022, an annual jump of 37.4 percent, according to China's embassy in the UAE.
The Chinese BRI engagement in the GCC soared by 244 percent to U.S.$9.3 billion in 2022, and over half of the total amount of funding was secured by Saudi Arabia, according to research by GFDC.4
Saudi focus
A flurry of deals between the Saudi and Chinese businesses was announced in the final months of 2022.
In December, about U.S.$50 billion of investment agreements were signed during the China summit held in Saudi Arabia, according to the kingdom's investment minister Khalid Al Falih.5
The deals included a wide range of economic sectors such as green energy, technology and cloud services, transportation, logistics, medical industries, construction, and manufacturing.
During the summit, Saudi ACWA Power signed agreements with nine Chinese entities that will lay the ground for financing, investment and construction of the utility provider's global clean and renewable energy projects in Saudi Arabia, as well as other BRI countries.6
A memorandum was also agreed with China's Huawei Technologies on cloud computing and building high-tech complexes in Saudi cities. Huawei has participated in building 5G networks in most Gulf states.
In Saudi Arabia, investment and construction volume of Chinese companies reached U.S.$52.1 billion since 2005 with the latter accounting for three quarters of the overall volume, according to China Global Investment Tracker (CGIT).7
UAE potential
With an ambitious project pipeline, the UAE has been one of the region's top destinations for Chinese construction firms, with investment and construction volume reaching U.S.$39.2 billion over the same period, CGIT data show. Construction represents nearly 80 percent of the total.
The UAE's power generation diversification drive has also long been a prime interest of Chinese companies such as JinkoSolar Holding, which participated in a U.S.$870 million, 1,177 MW solar photovoltaic power plant in Sweihan, one of the world's biggest.
Chinese contractors have also worked on other major projects in the UAE, which is home to over 6,000 Chinese businesses, such as the Mohammed bin Rashid Solar Park, U.S.$3.4 billion, 2,400 MW Hassyan clean coal power station, and Etihad Rail network.
In Abu Dhabi, infrastructure in China-UAE Industrial Capacity Cooperation Demonstration Zone, a bilateral BRI project, is expected to be completed by mid-2023. The zone is intended to cater to high-end manufacturing, new energy, chemicals, logistics, and metal processing industries.8
The UAE plans to further stimulate the flow of mutual investments with China, especially in future economy sectors such as Artificial Intelligence (AI), clean energy and infrastructure, as well as develop a joint strategy to attract technology research talent.
The Abu Dhabi Investment Office has increased its support for Chinese investors, offering incentives to eligible companies as a part of its AED2 billion (U.S.$540 million) Innovation Programme.
The upcoming COP28 in Dubai will be a great opportunity for Chinese companies to share their experience and technologies in the green transition.
Deepening ties between China and the two leading Gulf countries are expected to help boost investment across the region, with new technology, trade, logistics and greenfield initiatives adding to major power generation and infrastructure projects already underway.
Looking to invest in the MENAT region? We are here to provide support and guidance. Talk to our specialist today.